6 Tips for Motorcycle Accident Prevention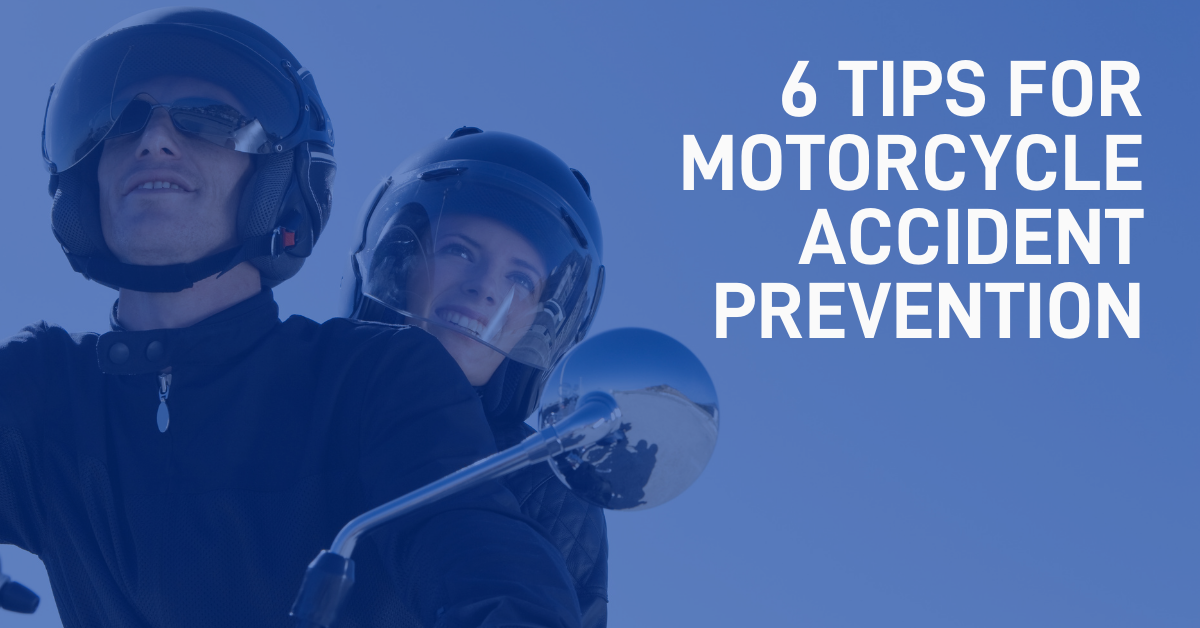 It's not a surprise that riding a motorcycle is one of the most dangerous places to be. According to the National Highway Traffic Safety Administration, motorcyclists are almost 28 times more likely to die in a crash. However, practicing motorcycle safety can prevent your risk of being involved in an accident. Follow these tips to stay safe on your two-wheeler:
1. Get Licensed and Practice
Illinois motorcyclists must pass both a written and on-bike riding exam before receiving a motorcycle license, but that's not all you should do. Practice makes perfect. Driving a car and driving a motorcycle are two completely different experiences that require different knowledge and skills, so make sure you know your stuff.
2. Check Your Bike Before You Ride
A bike requires the same maintenance as a car. Before every ride, you should check your tire pressure, brakes, headlights, fluid levels, etc. to ensure a safe ride.
3. Wear a Helmet
Prevent brain injury by protecting your head with a full-face Department of Transportation approved helmet whenever you ride.
4. Wear the Right Gear
Your arms and legs should be completely covered during a motorcycle ride to not only protect you in the event of a crash but to prevent dehydration caused by the wind and direct exposure to the sun. It's also wise to wear bright colors to make sure you are seen by other motorists.
5. Obey Traffic Laws
Make sure to obey all speed limits, signs, traffic lights, etc. Drive responsibly by keeping enough space between your bike and other vehicles, proceeding with caution at intersections, etc.
6. Don't Drive Under the Influence
Steer clear of drugs and alcohol, as they can impact your coordination, balance, vision, reaction time, and overall judgment, all of which are necessary to operate any type of vehicle.
McCarron Law Firm is here to help in the event of serious motorcycle accidents and fatalities. If you or a family member has been seriously injured from a motorcycle accident, you need an experienced auto accident attorney who can make sure that you know your rights, will utilize the law to protect your interests, and help you receive the maximum compensation possible. Don't worry, don't wait. Just call. 309-820-1010