Divorce Attorney in Central Illinois Fighting For Your Rights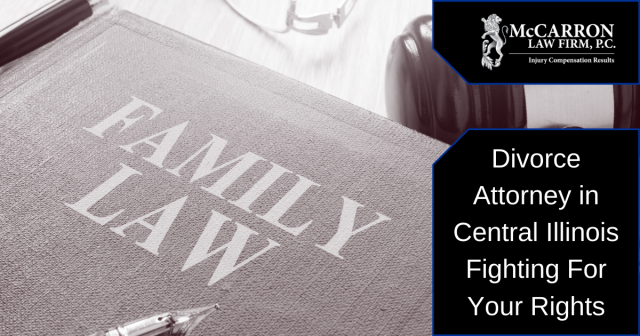 McLean County Contested and Uncontested Divorce Attorney
One of the most emotional and most uncertain times in a person's life is during a divorce.
Confusion about the future, fear of lost relationships, and the loss of control in the process can make divorce incredibly stressful and can make agreeing on even the simplest issues incredibly difficult. Under these circumstances, an experienced family lawyer can make a tremendous difference.
At McCarron Law Firm, experienced lawyer Joe McCarron understands divorce is not simply about filing papers, negotiating and performing other legal tasks. It's about your family, your future and what is right for the situation. It is about providing the personal attention that our clients need and deserve.

Bloomington-Normal Divorce Attorney
Our Illinois law firm can help you with every aspect of your divorce case, including contested and uncontested divorces for couples who have simple or complex estates. We can counsel you on issues related to divorce and family law such as:
No-fault and fault divorce
Marital property state issues, including co-habitation
Spousal support or alimony
Visitation rights and child custody
Child support
Adoption
Orders of protection
Legal separation (or divorce separation)
We can help you through negotiations with your spouse and offer clients the alternative dispute resolution of mediation. When necessary, we can also represent you in court to look out for your best interests.

Contact McCarron Law Firm About Divorce and Family Law
For more information about divorce and family law, contact McCarron Law Firm in Bloomington, Illinois. Schedule a FREE CONSULTATION and talk with us about your situation. Our office is in Downtown Bloomington. Call us at 309-820-1010 today. If your outside of Mclean County, feel free to use our toll-free number: 800-488-7661.